[PRE-ORDER] Fifarasol DONNA in BLUE BLACK
PRODUCT DESCRIPTION
This stylish pants is designed for beautiful girls who know the real perspective of fashion but in simple and elegant way.
Made from premium stretchable spandex fabrics.
It is smooth and wrinkle-resistant.
It is iron-less.
Easy to care for: ideal for busy women.
Available in more than 20 choices of colors.
Works well with clean-cut office outfits, or paired with casual tops. Also great for shopping.
Designed with a straight cut that suits everyone.
Specially designed for women whom her height is more than 160cm.
Other features: cool material, both sided pockets, wrinkle-free, easy-to-iron material, adjustable waist & woven brand label.
Size available : XS, S, M, L, XL & XXL
Note: Model wears XS size and is 163cm tall.
MEASUREMENT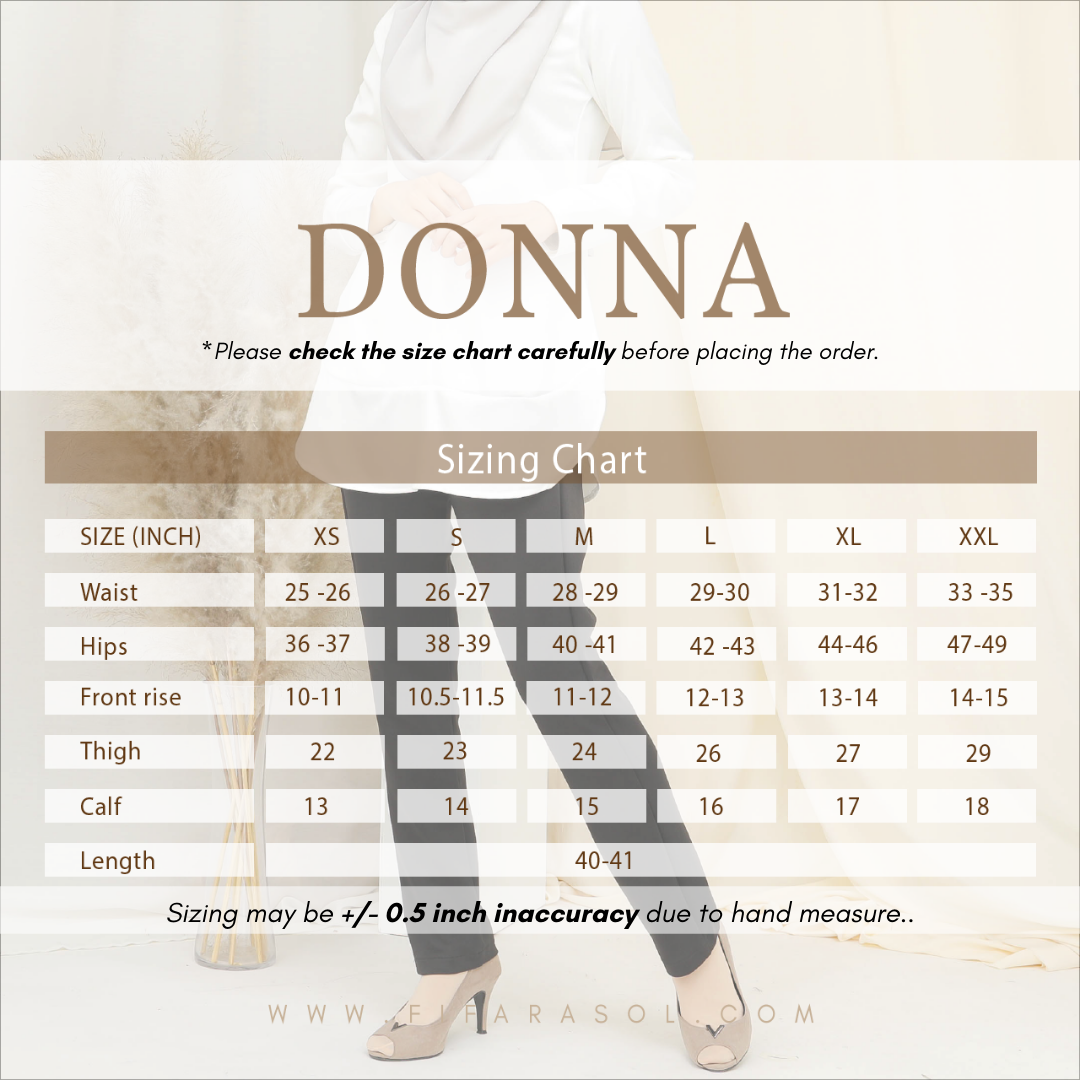 CARE INSTRUCTION
Buyers are advised to:
Hand wash the product using mild detergent and cool water.
Hang to dry the product.
Do not hang the product under direct sunlight in order to maintain its color.
Do not apply bleach on the product.
Iron the product at low to medium heat only.
Steam iron is highly recommended.
BUYER MUST KNOW
Products sold are not refundable.
To change size after a purchase is allowable. However, buyer must ensure the product is still in good condition, unwashed and unaltered. Please also note that postage fee shall be borne by the buyer.
We will only deliver the new product to the buyer once we have received the returned one. Please refer to our Return Policy for more details.
Actual color may slightly differ. This is due to the fact that every phone screen or computer monitor has a different capability to display color and also everyone sees these colors differently. We try our best to edit the photos to show the product's color as accurate as possible. However, please understand that actual color may be slightly different from what you see on you phone screen or computer monitor and we cannot guarantee that the color you see accurately portrays the true color of the product.
Postage will be made everyday (except weekend & public holiday).
PRE-ORDER POLICY
Pre-order means that the product is not currently in stock and you must place your order as per normal if you'd like to secure your size before the item arrives with us.
The advantage of purchasing through pre-order based is that you will secure your size without need to worry about the item becoming sold out shortly after we release it online.
Every order will take up 10-15 working days to be processed. Do take note that we will process your order once we have verified your order, it means that the item is not in the production line yet and not immediately available in our warehouse.
We only accept full payments. Do take note that we do not accept any deposit for pre-order items.
Bear in mind that dates are not guaranteed and delays may occur, mainly due to the manufacturing process that includes production and processing steps. Once that the item is available in our warehouse, your order will be dispatched within three (3) days.
Kindly note, every pre-orders cannot be cancelled or refunded once placed.
For any questions left unanswered from these terms, please visit our HOW IT WORKS or contact us at [email protected] or +60193009502